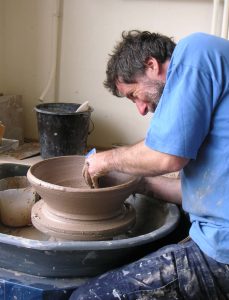 As a largely self-taught potter I started by making fairly traditional practical pieces such as mugs, jugs and piggy banks. Although there is still space for traditional glazed ware, my work has evolved to include more sculptural pieces, not necessarily functional, but hopefully something that can be seen as 3-dimensional art and the bigger the better!
My pots are heavily influenced by traditional unglazed pottery, such as storage jars, from around the world (Pompeii, Zimbabwe, Hong Kong) and also by the many standing stones found in the UK. The overall feel I am trying to achieve is "earthy, rustic and textured".
For the more sculptural pieces I tend not to use conventional glazes but prefers the raw surface of heavily grogged, gritty clays such as crank or raku. These are then finished with oxides, wood ash, metal powders and even road salt to add to the rough-hewn weathered appearance.
Occasionally the finished pots may get a splash of glaze or the addition of a complimentary material such as coloured glass or gold leaf to give the pot a lift and make a real statement piece.
Address:  3 Station Road, Romsey, SO51 8DP
Mobile Telephone Number:  07582505068 
Services provided:  Commissions accepted. Demonstrations/talks provided.
Automatic Slideshow.  Click on Image to bring up Larger View.