A demonstration by Jemma Gowland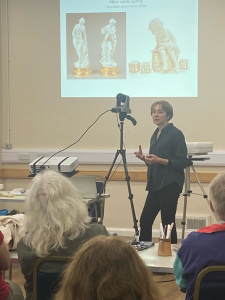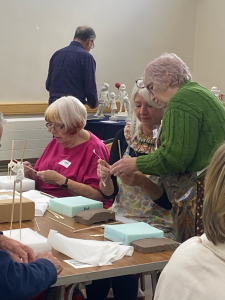 Many members of our group recently enjoyed a wonderfully interactive experience at the Jemma Gowland demonstration held in Petersfield in October.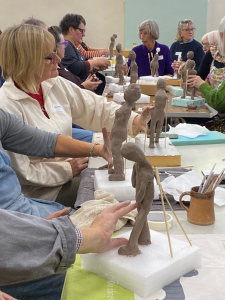 The event started with Jemma explaining her background and development as an artist which has led to high demand from collectors for her thought provoking and exquisite sculptural work. Sharing techniques and hands on advice, members were able to use her expertise and tips on creating figures with 'stance' – everyone made unique and brilliant pieces! These little figures collectively made for an amazing sculptural treat, each with individuality and lots of personality!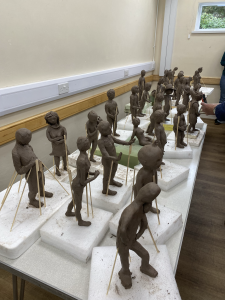 Jemma was so generous with her sharing of techniques and members really enjoyed using the clay and engaging with the unusual methods of making. Hopefully many have now been fired at the members' homes or further developed and now provide a lasting memory of this great event!
An amazing buffet lunch, a prize winning raffle, lots of banter and creative work made for a really wonderful day!
– end –

 
A demonstration by Adrian Bates

On Saturday 4th March we were fortunate to have an excellent demonstration by ceramicist, potter, sculptor Adrian Bates. During the day he threw, slab built, turned, joined and generally gave us an inspiring insight into how he works.
He sees a pot as a story; with the base being the beginning, the middle of the pot the journey and the rim as the end. Often combining both thrown and slab built techniques Adrian's pieces challenge how the clay can move, bend and hold form.  
During the day we saw how he creates 3 of his different styles.  These included his thrown spiral bowls, also his elegant tall sculptural pieces and his iconic mobius pieces inspired by a mathematical structure.
He brought examples of his work at different stages of build, and in good Blue Peter style he was able to demonstrate a variety of stages of the development of his work, which was excellent for us watching as we could see the numerous, and often risky, stages each piece has to go through.
The Mobius sculptural pieces are made from a single long slab that is compressed regularly to strengthen the clay and make it denser. He uses a long kidney tool for this process and only starts to create the shape when the clay has been strengthened enough. He then twists and jiggles the piece creating a dynamic form which he then joins together at both ends. It was fascinating to watch him in action, stretching the clay, and regularly using the heat gun to help stabilise the form. 
Adrian was very generous with his tips, explanations of his process, the clay he uses- Ashraf Hana, and firing regimes which was much appreciated by all there. 
I hadn't been to a live SCG Demo before and was so impressed by the whole day. The demo itself offered such a comprehensive view of Adrian's work. He was really happy to chat and answer questions about what and how he was doing things. Another bonus was the delicious shared lunch, we each took a dish to share, and had a chance to enjoy a range of really tasty food with other SCG members which was very social.  Thank you to all who organised and coordinated it.
I left the day inspired and with a list of a couple of tools and techniques I want to try, these include a hack saw blade- oh yes, Adrian used these half blades to trim, shape and for numerous other jobs!   
– end –

A demonstration by Gareth Mason

We are delighted to advise that our next in-person presentation and demonstration will be the amazing Gareth Mason in the autumn.
Originally planned to happen before the pandemic, this event has had to be postponed several times, obviously due to Covid but also due to some unfortunate events including Gareth breaking a bone in his left hand !
Gareth specialises in dramatic clay and porcelain pots and exhibits in solo and group exhibitions internationally. He is a Fellow of the Craft Potters Association and Brother of the Art Workers Guild, London. He lives and works in Hampshire and residences have included China and USA. 
Gareth is very much looking forward to meeting the group and demonstrating his unique methods. He will impart his desire to use the potters wheel as a tool to 'make things dance' – with a relaxed approach and lots of tips!
We will give more details nearer the time including times and location, the event will be in early October.
In the meantime, and to whet your appetite, please see his website https://www.garethmason.net

A picture of a piece of Gareth's work is shown above. Entitled 'Secret Keeper', it is composed of stoneware, porcelain, glazes, oxides, and lustre.  Height 76cm, 2011.
– end –

A demonstration by Sharon Griffin
Our first live demonstration since the pandemic started, we were delighted to welcome Sharon Griffin to an audience of 30 members and guests at the Porchester Community Centre on 30th April.
Sharon is a figurative sculptor and uses an unusual slab based technique to build her emotive figures.
She generously shared her ceramic journey to date, the reasons behind her art and the experiences she has lived through which informs and influences her work. Combined with a digital presentation, her amazing sketchbooks, sharing small pieces of clay for members to have a 'play' her demonstration was fast paced and informative.
Working on two busts she showed how she works from the inside of the figure to push out and develop the features and form that produces some emotive, characterful pieces. It was a totally absorbing presentation and the members seemed to thoroughly enjoy and hopefully were inspired by the event.
Sharon kindly donated a beautiful figure for the raffle which was held for the people of Ukraine. The group raised over £220!
It was fabulous to get together in person and we look forward to many more in person demonstrations to come.
The next presentation will be Joe Frowen, a young, talented potter who uses a variety of techniques including throwing with coils and using slip trailing and lustres to produce his science fiction inspired pieces. This will be held in June, full details to follow, this will be a zoom event.
– end –

An Interview with Barbara Mace about Psychotherapy with Clay
Learning Pottery & Ceramics
This section of our website provides information on learning opportunities with our members.  These may be occasional courses or regular classes.
Hampshire – Petersfield
Jack Allum, Loam
Loam is a contemporary ceramics studio in the heart of the South Downs National Park. Bordering both Hampshire and West Sussex, Loam offers a beautiful, light space in which to try your hand at throwing on a potter's wheel.
The studio offers a range of throwing courses allowing people of all levels to experience making ceramics.
Courses can be tailored but include:
– 2.5hr throwing classes
– 10 week throwing courses
– Weekend throwing courses, including lunch
Contact Jack for information and booking.
Tel 01730263875
    www.loamstudio.co.uk/
    www.instagram.com/loamceramics/
West Sussex – Fishbourne
Sarah Amos, Pottery Corner @ No. 45
The Pottery Corner
Clay Club
Raku Firing
Basic Throwing skills
The Studio at 45 Deeside Avenue, Fishbourne, West Sussex, PO19 3QG
Contact Sarah for information and booking.
Tel 07763 460494
Website:  www.thepotterycorner.co.uk
Hampshire – Shedfield (nr Wickham)
Eveline Chamberlain, Mountwood Pottery
I teach throwing on an electric wheel and various finishing techniques. Age 15 and older only. Max two students per hour.
Lessons are £12.00 per person per hour, or £50.00 for 5 lessons. Glazing and firing cost about £1.50 per mug-sized pot, more for bigger pots.
Tel 01329 833 355 or text to Mob 07587 144 845   
evelinechamberlain@gmail.com
    www.facebook.com/mountwoodpottery/
West Sussex – Bognor Regis
Su Cloud Ceramics
Su Cloud has a purpose build clay studio in her garden, that can take up to six students per session. She runs various courses throughout the year, three weeks to six weeks in length, morning and evening two hour sessions, details are on her website.
Clay club is run twice a week, on Tuesday and Wednesday's, morning and evening at £12 per two hrs session, there is a yearly membership of £20.
  sucloudceramics@gmail.com
   www.sucloudceramics.com
West Sussex – Worthing
John Evans
 John offers tuition in all aspects of working with clay, including student access to gas and electric firings,  as well as outdoor raku and a variety of 'alternative firing techniques'.
Tuition is one-to-one or in small groups with occasional workshops in various raku and raku related techniques.  'Taster' throwing sessions and gift certificates for that special occasion are available.
Raku events can be arranged (subject to a suitable location) e.g. in your garden or school outdoor area.
John has a BA (Hons) Ceramics from the University of Westminster and shows work at major national and international events. He is a member of the Sussex Guild.
Mobile 07801 151255  
  tuition@jevceramics.co.uk 
  www.jevceramics.co.uk
Hampshire – Winchester/Hursley
Nadia Hopkins
The Old Kiln Studio – Ratlake Ceramics.  Lower Ratlake Cottage,  Winchester Road Near Hursley, Winchester, Hampshire, SO21 2LD
Ceramics & Pottery Throwing Classes in Winchester
Dedicated use of Electric wheels
Monday-Wednesday evening classes
Saturday Throwing Taster Workshops
Mobile 07887 996 256  
 ceramics@ratlake.net 
  www.ratlake-ceramics.co.uk
Hampshire – Fordingbridge, New Forest
Rosemary James
Rosemary James teaches at Pottery Ceramic Services (PCS) in Fordingbridge, New Forest.
Rosemary 02380 293448 or Pottery Ceramic Services 01425 655540
  www.potteryclasseswhyme.wordpress.com
Tim runs a variety of online technical courses for potters, including
Studio Health and Safety for Potters
Product Safety for Potters
Please look on the web site for further details and for dates

07985 927376
   tim@tim-thornton.com
    www.tim-thornton.com/courses-2
Instagram  www.instagram.com/tim_thornton_ceramics/
Facebook  www.facebook.com/TimThorntonCeramics
Hampshire – Hayling Island
Zyg Kruk
I run some ceramic sculpting / clay modelling courses September through April each year.
The materials are earthenware clays, paper clay and low temperature glazes, and we do the firing in electric or gas kilns (raku).
Subjects include portrait sculpture of the head, whole body and animal sculpture.
Courses include 1 or 2 days on week ends, and series of 1/2 day weekday courses (4-8 weeks). They are run on Hayling Island (PO11 9SP).  Charges are in the region of £20 for a 1/2 day course (dependent on materials and models).
Please contact me to discuss/for details.
Home 02392 469 104 Mobile 07864 995 834  
 zyg@kruk.co.uk
West Sussex – Arundel
Keith and Debbie Menear
Menear Ceramics  at The Pottery, Amberley Museum and Heritage Centre,  Houghton Bridge,  Arundel,  West Sussex BN18 9LT
If you would like to be included on our mailing for new courses then please contact Keith & Debbie via the email address below.
Prices for courses includes full tuition and use of clay (up to 6kg), equipment, glazes and kilns. We also welcome groups and school parties for taster sessions.
We try to tailor the courses to meet your needs so please contact us to discuss what options are available
Website : www.menearceramics.com
Mobile 07788 908 182  
menear@live.com
Hampshire – Porchester
Helen Scribbans
I run evening classes at Portchester Community School Tuesday evening, 7-9 term time. Full info about the course can be found on the school's website:
Website : www.portchester.hants.sch.uk
Or people can email me for information.
Mobile 07854 630930  
helenscribbans@icloud.com
Other Pottery & Ceramics Classes and Courses
For details of other opportunities to learn Pottery & Ceramics, try the suggestions below:-
Pottery Classes in East & West Sussex  – There is a list of courses on the Hesketh Potters' Supplies website.
Website: http://www.heskethps.co.uk/classified_page.php?class=classes
Ceramic courses in Hampshire – Make a Google search for "Ceramic courses in Hampshire"  to get an up to date listing.
Ceramic courses in Dorset – Make a Google search for "Ceramic courses in Dorset"  to get an up tod ate listing.
Sara Churchill –  Pottery Classes in Poole, Dorset
Tel: 07971 539686 or email sara_churchill@hotmail.com
Website: http://www.saraamics.com/
Tradpots Pottery Courses, Poole, Dorset
Website: www.tradpots.com/